NAVARRE ARMS
the Navarres of Meaux and New France
by Marshall Davies Lloyd
In T. P. Hall's Family Records of Theodore Parsons Hall (75-76), the author reports that these arms were provided to Carrie Godfroy by the Compte de Blavette, then resident of Versailles and lineal descendant of the Navarres of Meaux--the diocese containing the town of Villeroy, birthplace of Robert de Navarre. These same arms were born by Ollivier Navarre of Meaux, while some of the family used a silver sheild with a horse
sable rampant [black, up on hind legs]. Silver coins reportedly were struck with this heraldry, although Hall found no examples.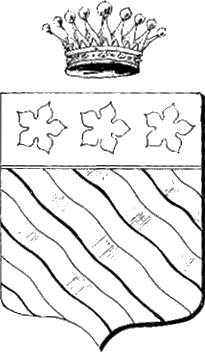 Theodore Parsons Hall
line drawing of Navarre arms
The artwork originally presented in Hall's book is only a line drawing but he does include the tinctures [colors] of the arms in the blazoning or description found on page 100 of his work:
Navarres of Villeroy and Nouvelle France, d'azur a 5 bands, ondées geules, en chef d'azur charge de 3 cinquefeuille d'argent. Also on a shield ar a horse rampant sa. Crest, a royal crown.
This is equivalent to the English description:
Navarres of Villeroy and New France [Canada]: azure, 5 bends wavy gules, on azure chief 3 cinqfoils argent. Also on a shield ar[gent] a horse rampant sa[ble]. Crest: a royal crown.
Heraldic descriptions are rather terse and archaic in expression, so I will explain. Azure is sky blue [signifying justice, loyalty, and courage], gules is red [signifying love of god, charity, and courage], and argent is silver [signifying humility and innocence, but in artwork argent is often rendered as white]. There is also a specific order to heraldic description. The field [background] of the escutcheon [shield] is described first, so here "azure" is shorthand for "on a field of azure." Next is described any charges [elements displayed] and divisions of this field--in this case "five bends wavy gules," meaning five undulating red ribbons (between which one still sees the azure of the field appear).
The chief is the upper 1/3 of the shield divided from the lower 2/3 by a line running the full width of the shield. This partition on the Navarre arms is also azure, charged [decorated] with three cinqfoils--a five-petaled ornament without stem. I've rendered the cinqfoils in white representing silver.
Finally the crest, or the element above the shield, Hall simply describes as "a royal crown" -- representing the royal line of the Navarres. From the graphic Hall provides, however, the crown is further identifiable as that of a Count, in French Compte. This agrees with Denissen's note (10) that Anthony of Bourbon, ancestor of Navarres of Meaux and crowned king of Navarre in 1554, was also count de Vendôme. Compare the line art provided by Hall and H. J. de Morenas' more detailed graphic (15) and description (13) of the crown of a Count presented in his Grand Armorial de France: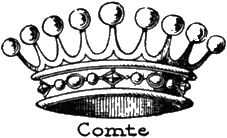 H. J. de Morenas
Le Comte timbre ses armoiries d'une couronne composée d'un cercle d'or, orné de seize grosses perles montée sur des rayons d'or. Lorsque cette couronne est dessinée, on ne voit que neuf perles.

The Count crests his arms with a crown made of a band of gold, adorned with 16 large pearls mounted on rays of gold. Whenever this crown is depicted, one can only see 9 of the pearls.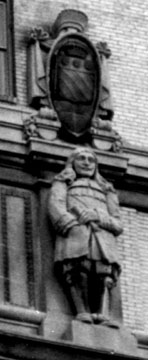 Robert de Navarre
Book Cadillac Hotel
Detroit, Mi.

In 1924, architect Louis Kamper used these same arms [5 bends wavy on chief 3 cinqfoils surmounted by a crown] on the facade of his building, the Book Cadillac Hotel in Detroit, Michigan. Here the arms
surmount a statue
of Robert de Navarre, founder of the North American line of Navarres. The statue is rightmost in a series of four statues
representing significant figures of Detroit history (L-R: Gen. Anthony Wayne,
Antoine de Lamothe Cadillac,
Chief Pontiac,
and Robert de Navarre).
The four together adorn the 220 Michigan Avenue entrance
of the Hotel. Black and White photos of the statue and arms, taken of the Book Cadillac Hotel in the Fall of 1999, appear courtesy of Constance E. (Taylor) Anderson, a descendant of Robert de Navarre through his son John Mary Alexis Navarre. Color photos are from my own trip to Detroit on June 26, 2000.
The Book Cadillac Hotel first came to my attention through Shirley Ward's article "The Navarres: From European kings to Potawatomi chiefs." She comments on Robert de Navarre:
the first Navarre to arrive in America was Robert, the four times great-grandson of Anthony de Bourbon. He came to Fort Ponchartrain at Detroit in 1739 to represent the French government as Royal Notary. His original land grant now is Grosse Pointe. His service was so important to the growth of Detroit that his statue was placed atop the Book Cadillac Hotel along with those of Gen. Anthony Wayne, Cadillac and Pontiac.
The statue, however, is hardly "atop" the hotel. It rather forms part of the architectural adornment of the Michigan Avenue facade where four engaged statues surmount the entablature over four fluted pilasters of the Corinthian order. Each of these statues is crested by an individual coat of arms. The entablature itself consists of 1. an architrave sporting two bossed disks over the outer two pilasters, 2. a frieze decorated with an element carved in relief over each of the four pilasters [over the inner two pilasters lie lions of St. Mark facing each other in mirror symmetry, over the outer two pilasters are shields on rolls, and between each of these four elements the frieze is festooned with a pair of garlands cradling two rosettes and tied at the middle], and 3. a cornice combining dental molding under a row of acanthus, which itself supports a row of bead and reel.
On Sunday, June 26, 2000, I traveled to Detroit myself and visited the Hotel across the street from the Book Cadillac Hotel--the Downtown Detroit Best Western. There a Mr. Darek Urbaniak was most patient and gracious in letting me photograph Robert's statue
from Room number 631 and indeed had taken me to several floors in order to ascertain the best view afforded by his hotel. He was most kind and I cannot thank him enough. Interestingly, in the plaza at the foot of these two hotels lies a statue
of Robert de Navarre's grandson Gen. Alexander Macomb, the commanding general of the United States Army and the victor of The Battle of Plattsburgh. The sculptor was Adolph Alexander Weinman (1870-1952), who also designed the "liberty dime" and the statue of Lincoln for the monument in D.C.
See aerial photo. See high-quality image at Burton Historical Collection.
---
BIBLIOGRAPHY
Denissen, Christian. Navarre, or, Researches after the Descendants of Robert Navarre, Whose Ancestors are the Noble Bourbons of France. And some historical notes on families who intermarried with Navarres.. Detroit: 1897.
Hall, Theodore Parsons. Family Records of Theodore Parsons Hall and Alexandrine Louise Godfroy, of "Tonnacour," Grosse Pointe, Near Detroit Michigan, Including Brief Accounts of the St. Auburn, Scott-Gordon, Irvine-Orr, and Navarre-Macomb Families. Detroit: Wm. C. Heath Printing Co., 1892.
Morenas, Henri Jougla de, and Raoul de Warren. Grand Armorial de France. 7 vols. Paris: Les Editions Héraldiques, 1934-1952; reprint ed., Paris: Frankelve, 1975.
Rolland, Victor & Henri. Général Illustrated Armorial. Vol 4. Lyon, France: Sauvegarde Historique.
Willard, Shirley.

"The Navarres: From European kings to Potawatomi chiefs." The Rochester Sentinel. Sept. 17, 1997.
---